Click HERE to open this video in YouTube and comment on it.

Ken & Dawn Ellis welcome you to "kodachrome.org"
Above is just one of our videos.
Please take a look at the rest of our videos on
YouTube at youtube.com/atimetoremember
Below is a list of some of our web pages.
We hope you will take time to check out a few!

Spiritual Gifts Test --- Youth Spiritual Gifts Test
Sound And Light Training Manual --- Save the Australian Pines
Ken & Dawn Ellis --- Wedding of Krista (our daughter) & Khris --- Wedding of Scott (our son) & Tracie
Matthew Alexander Cox (our first grandson) --- Nathan Levi Cox (our second grandson)
You can also find us on Flickr at http://www.flickr.com/photos/atimetoremember/sets/



Greetings from Ken & Dawn Ellis :



This little corner of the Web is an introduction to Ken & Dawn Ellis, our family, and our interests. We are originally from York, Pennsylvania, lived a short time in Myrtle Beach, South Carolina, and have called Boca Raton, Florida our home since 1980.


Clicking on any of the underlined words on this page will take you to one of our Web pages. We have a web page about Ken and Dawn Ellis , that's me and my lovely wife. We have two children (young adults) named Scott and Krista.


Ken worked for Siemens for 24 years and Dawn worked for Siemens for 12 years. However, due to the slump in the Telecom industry we both lost our jobs. Dawn is now working at First United Methodist Church of Boca Raton and Ken is now working at Coral Ridge Ministries in Fort Lauderdale.


On October 17th, 1999, our daughter, Krista, got married to Khristopher Cox. You can see pictures of her Bridal Shower and their Wedding Day . Krista and Khris now live in Charlotte, North Carolina.


On December 29th, 2004, Krista & Khris were blessed with a baby boy! His name is Matthew Alexander Cox . Needless to say, Grandma Dawn and Grandaddy Ken are as pleased as we can be! There is a video of Matthew on YouTube called Let Them Be Little .


On June 29th, 2007, Krista & Khris had a second son. His name is Nathan Levi Cox . Again, Grandma and Grandaddy cound not be happier! There is a video of Nathan on YouTube called The Amazing Nathan Levi .

This space is reserved for Krista & Khris' third child who is not yet born ... . .


March 3rd, 2001, our son, Scott Ellis married Tracie Crawford. You can also see pictures of their Wedding . They live in Concord, North Carolina (near Charlotte). Their web site is stormcrow.org . You can see more of Scott on his Birthday Page .


In July of 2000, we had the pleasure of attending the wedding of our niece, Brandi Marshall to Craig B. They were blessed with the birth of their first son, Nickolas James in May of 2003. And in September of 2004, they had a second son, Zackary Greg.


Our other niece, Wendy Marshall, was married to Michael Carney on September 27, 2003 at Heidelberg United Church of Christ in York, PA. They now have two daughters. Elizabeth Rose was born on January 4th 2006 and Olivia Lynn was born on July 27th 2007. There is a video of Olivia Lynn on YouTube called Olivia Lynn .


Ken has always been interested in sound, lighting, and video. He ran sound at Advent Lutheran Church for about 12 years and several years at First Christian church. Ken has put together a Sound And Light Training (SALT) Manual that many church sound technicians have found to be helpful.


There is an online Spiritual Gifts Test to give Christians an opportunity to learn a little more about the wonderful gifts that God has given to each one of us. A new Youth Spiritual Gifts Test has recently been added.
If you just want to relax, then try Scripture Pictures .


During the summer of 1999, Ken & Dawn enjoyed a spectacular National Parks and Canyon Country Vacation . Sights we got to see included the Black Hills, Crazy Horse Memorial, Mount Rushmore, Devil's Tower, Bighorn Mountains, Yellowstone National Park, Old Faithful, Grand Teton National Park, Snake River, Salt Lake City, Bryce Canyon, Zion National Park, Lake Powell, Grand Canyon, Hoover Dam, and Las Vegas.


Our 2001 vacation took us on a tour of Mackinac Island, Great Lakes, and Niagara Falls . This trip took us to the Henry Ford Museum, Frankenmuth, The Grand Hotel on Mackinac Island, African Lion Safari, Niagara Falls, a ride on the Maid of the Mist, the Corning Glass Museum, and the Stuben Glass Factory.


In the spring of 2002, we went with Christian Tours again. This time, the trip was to Branson, Missouri and the Precious Moments Chapel. We saw a number of musical shows in Branson. At the Precious Moments Chapel, we saw the beautiful stained glass windows that Sam Butcher made.


In the fall of 2002, we went back to our home town of York, PA . We visited with Dawn's parents and her sister's family and learned that Brandi, our oldest niece, and her husband Craig were expecting a baby! While we were in York, we visited the Harley Davidson factory to see how they built motor cycles.


Along the way to Pennsylvania, we stopped for a day in Myrtle Beach, SC where we had lived for a short time "when we were young and wild". One of our favorite things about Myrtle Beach was the Pavilion Park with its beautiful Carousel. Sadly, the Pavilion has now been torn down and all the rides have been taken away.


We also took a short trip to Lion Country Safari in near-by West Palm Beach, FL. Lion Country is actually a "drive through" zoo. You really get up close (sometimes too close) to the animals! We took lots of pictures . . .


For a number of years, Quiet Waters park in Deerfield Beach has been the site of the South Florida Renaissance Festival . These pictures were taken before the caretakers of Quiet Waters decided to cut down all the beautiful Australian Pine trees in the park and turn it into what looks like a nuclear wasteland.


Ken likes to go to the beach, but really doesn't like being out in the sun. He likes beaches with lots of tall shady Australian Pine trees. Unfortunately, the environmentalists in South Florida have declared WAR on the Australian Pine trees and are trying to wipe them out. Ken has a web page titled Save the Australian Pines that we hope you will take a look at.


Florida gets some really AWESOME Lightning storms. Here are a few Lightning Pictures .


On December 24th, 1999, we were privileged to have the opportunity to take pictures at the wedding of Pastors Fred & Karen Mortensen's son, Kristofer Mortensen to Lori Bowen .


Pastors Fred & Karen's youngest daughter, Britt, and Wes Smith (also a Pastor's kid) were joined together in a beautiful North Carolina Country Wedding . Their wedding pictures by Jonathan Burton are some of the best I have ever seen!



Kaia, Pastors Fred & Karen's other daughter had a Bridal Shower in December of 2002. Kaia Mortensen was married to Matt Dolton on May 17th, 2003 by the beach at the Hillsboro Club. You can see pictures of their Wedding Rehearsal and of their Wedding Day.


For many years, we regularly attended two churches. On Saturday evenings we worship in a "house church" called Shepherd's Promise . It was a very small flock shepherded by Pastors Fred & Karen Mortensen. Each year on Resurrection Day, we had a Son-Rise Service on the beach (Pictures from 2000 , 2002 , 2003 ). However, there is a time and a season for everything, and the season for Shepherd's Promise has now come to an end.


For about 12 years, Ken & Dawn were very active in Advent Lutheran Church's outreach music ministry called M.A.G.I.C. - Music Aimed at Growth In Christ. Dawn sang in the group and Ken ran sound. A few years ago, M.A.G.I.C. had a Reunion Party.


Ken's parents have both gone to be with the Lord and so we have a web page In Memory of Gladys & Kenneth Ellis .


Jim Bescherer ("Boppy") , father of pastor Karen Mortensen, went to be with the Lord on September 26th, 2001.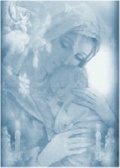 My favorite song of all time is one written by Mark Lowery called Mary, Did You Know? The words to this song make you think about how Jesus is both human and God. It makes you wonder what it must have been like for Mary . . .


Our internet Christmas Card to you tells the story of Mary, Joseph, and baby Jesus.

We hope you have enjoyed our little corner of the web. Please come back again!

God Bless,
Ken & Dawn Ellis